---
We are happy to introduce you our new product: FemtoEVO.
FemtoEVO allows to activate any version of NBT EVO, including Asian version made by Alpine.
Activation became faster: it takes about 5 minutes.
All you need to do is connect car to your Windows-based PC with standard ENET cable and push two buttons.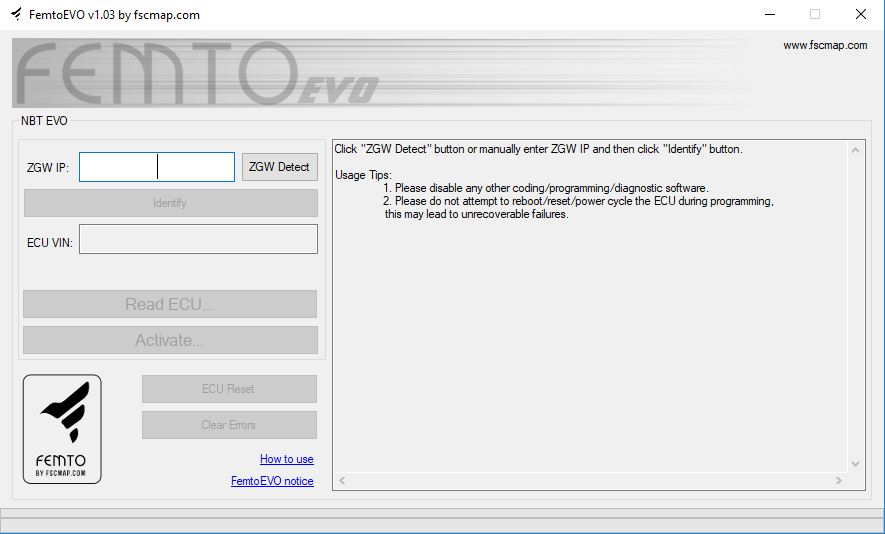 Benefits
With FemtoEVO you will get set of modified functions, such as:
NBT EVO SW versions 20-07-XXX, 20-03-XXX, 19-11-XXX, 18-11-XXX and earlier are supported.
Activation of Alpine units for Asia market in 5 minutes!
Automatic FSC import;
Automatic coding of Apple CarPlay

*

;
Official Apple CarPlay in full screen mode (since I-level 18-11-XXX);
Region change now is available for all regions (US to ECE, ECE to Asia, Japan to New Zealand, etc.);
Improved VO coding fix (E-Sys coding error).
(*) Note: For Apple Carplay Wi-Fi aerial is required.

Apple CarPlay Fullscreen feature
Old version of Apple CarPlay
Please note, you'll have to upload proper map data for navigation system by yourself (we don't provide map data).
Note: FemtoEVO will not code EVO unit to match your car / screen / language / joystick / etc., you'll have to code it by yourself if you need so.
How to use FemtoEVO?
Attention: FemtoEVO doesn't work with ICOM or DCAN cables. Only standard ENET cable. What is ENET cable?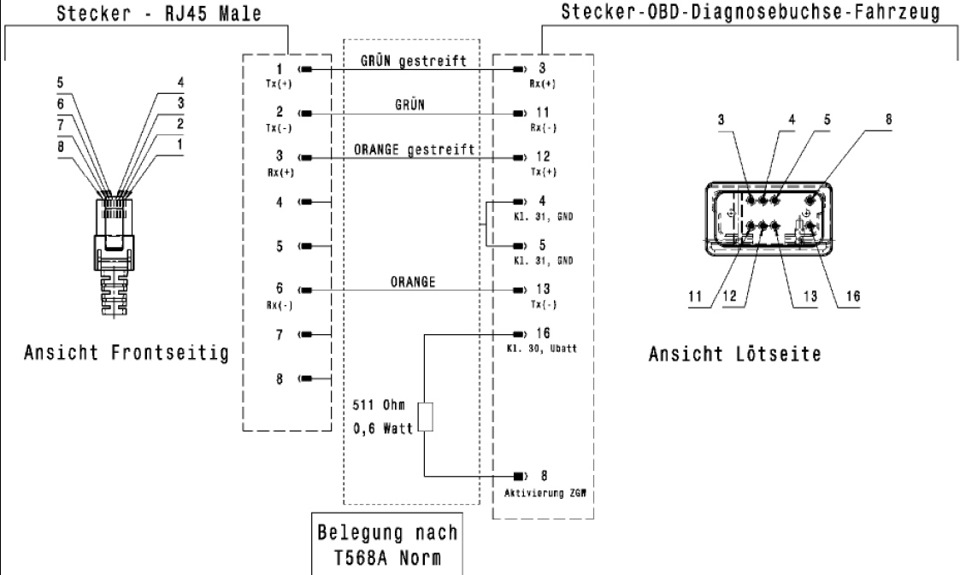 Make sure that the NBT EVO is properly connected to the central gateway if head unit has been retrofitted;
Connect standard ENET cable to the car (ICOM is not supported!);
Run FemtoEVO.
Click on "ZGW detect" button or manually enter IP address of the central gateway.

Click on button "Identify" to read information from NBT EVO.

Click "Read ECU" to read data from NBT EVO. Save it and send the file us at:

[email protected]

In a response, you will receive an activation file in format *.evo for your NBT EVO. Open and load it using the "Activation" button.

In the pop-up window, please check twice: activation VIN, serial number of your NBT EVO, set of selected activations (FSC set, VIM, CCP, Coding unlock). Click "Yes" to continue.

You can see activation process containing of 3 parts: 1/3, 2/3, 3/3

FemtoEVO will inform you with a pop-up window about successful completion of activation process.

FemtoEVO automatically code Mirroring and CarPlay on your NBT EVO (Apple CarPlay Fullscreen mode is available, if you note it in your request).
Use "Clear errors" button to clear the error memory.
Enjoy your saved time, because now you can do your job much faster with FemtoEVO.

Frequently asked questions

— How to check compatibility of my NBT EVO with Apple CarPlay Fullscreen mode?
Please check your software build number in Navigation menu.
You will find it in Map version information section.

1.


2.


3.


4.

— Can I use FemtoEVO for all NBT EVO?
Yes, FemtoEVO supports all NBT EVO types, all production dates and all i-Level versions at the time of writing this user manual.

— What is CarPlay fullscreen?
This is a full-screen (wide screen) mode Apple CarPlay, officially it's not available.

— The program does not start. What I need to do?
Try the following:

Install Framework 4.5;
Check for the presence of dll in the folder with FemtoEVO;
Disable antivirus and firewall software.

— I clicked the "ZGW search" button and nothing happens. What I need to do?
Try the following:

Check ENET cable, OBD connector and your computer LAN port;
Check the Ethernet wiring from gateway to NBT EVO;
Disconnect all other diagnostic / coding programs from the car (E-sys, ISTA/D, ISTA/P, etc.);
Switch off the car. Lock it. Let car go to sleep and try to again;
If you know the IP of the car — you can enter it manually.

— When I click the Identify button, the following error appears: "Data transmission between the PC and the ECU is disturbed".

FemtoEVO does not support connection to remote car;
Disable antivirus and all firewalls;
Check ENET cable, OBD connector and you computer LAN port;
Check the Ethernet wiring from gateway to NBT EVO.

— When I click the Identify button, the following error appears: "Coding data is missing". What was happened?

This is an informational error indicating the lack of coding. With it, FemtoEVO will not be able to automatically code NBT EVO after activation. The remaining functions will be performed.
You can code NBT EVO before running FemtoEVO.
Click Identify button again.

— The "Unsupported HU type" error appears, when I click the Identify button!
The product supports only NBT EVO headunits!

— When I click the Identify button, the following error appears: "no ZGW found at this IP address, make sure you're connecting to the ZGW / BDC"
Please check Ethernet connection between gateway and NBT EVO.

— I clicked the Read ECU button and saved the file and what should I do now?

Do not rename the file!
Send a file to

[email protected]

. Also please specify VIN of your car, and describe which activations you need.

— I completed Activation, but CarPlay doesn't work. What do I need to check?

In some cases, after activation, you will need to restart NBT EVO. In this case please use "ECU Reset" button;
If you can not connect the iPhone, although you see CarPlay, check the presence of a Wi-Fi antenna in a car.

— All features were activated, but after a few minutes FSC status changes to "rejected" or "not available". What do I need to check?

Recheck VIN of car;
Maybe NBT EVO already has another patch. NBT EVO needs to be reprogrammed and re-activated using FemtoEVO;
Optionally enabled component protection

— How to understand: is the component protection active, and how to remove it?

Read errors from NBT EVO. You will see error about Active Component Protection;
FSC will change status to rejected or not available;
After activating FemtoEVO, you need to import the FSC 170 (it will be inside mail from us, in the attachment). Open the Expert mode tab in E-Sys – select FSC 170 in the Open FSC item – execute Store FSC – perform Check FSC. Repeat activation with FemtoEVO again.

— After activation, I see pop-up window on NBT EVO screen, that you need to activate navigation with the code. How to activate it?

Take a USB flash drive with navigation maps, create folder named "FSC", put the FSC navigation maps inside it. (You can find the FSC code of the map in mail from us, in the attachment).
It may be caused by Active Component Protection. Check section about Component Protection.

— How to check NBT EVO Component protection state?

Please read our instruction manual (.pdf, 274 KB)

— How to delete maps from NBT EVO and load a new one?

Please read our instruction manual (.pdf, 117 KB)

— Which type of locks / blocks does NBT EVO have?

Please read our article (.pdf, 17 KB)

— Navigation is always in the "Starting" state!

Please follow only one of the options below:

Please use FemtoEVO, click "Store FSC" and open provided map fsc file (FSC_nnnnnnn_xxxxxxxx.fsc). Wait few minutes, reboot EVO and check if Navi is working.
OR: Please use empty FAT32 formatted usb drive (smaller capacity is preferred), create folder named FSC in the root folder and copy provided map fsc file (FSC_nnnnnnn_xxxxxxxx.fsc) to it. Then just insert this usb drive into evo usb socket and wait few minutes.

Download

---

We are happy to introduce you our new product: FemtoEVO.
FemtoEVO allows to activate any version of NBT EVO, including Asian version made by Alpine.

Activation became faster: it takes about 5 minutes.
All you need to do is connect car to your Windows-based PC with standard ENET cable and push two buttons.

Benefits

With FemtoEVO you will get set of modified functions, such as:

NBT EVO SW versions 20-07-XXX, 20-03-XXX, 19-11-XXX, 18-11-XXX and earlier are supported.
Activation of Alpine units for Asia market in 5 minutes!
Automatic FSC import;
Automatic coding of Apple CarPlay

*

;
Official Apple CarPlay in full screen mode (since I-level 18-11-XXX);
Region change now is available for all regions (US to ECE, ECE to Asia, Japan to New Zealand, etc.);
Improved VO coding fix (E-Sys coding error).

(*) Note: For Apple Carplay Wi-Fi aerial is required.

Apple CarPlay Fullscreen feature

Old version of Apple CarPlay

Please note, you'll have to upload proper map data for navigation system by yourself (we don't provide map data).

Note: FemtoEVO will not code EVO unit to match your car / screen / language / joystick / etc., you'll have to code it by yourself if you need so.

How to use FemtoEVO?

Attention: FemtoEVO doesn't work with ICOM or DCAN cables. Only standard ENET cable. What is ENET cable?

Make sure that the NBT EVO is properly connected to the central gateway if head unit has been retrofitted;
Connect standard ENET cable to the car (ICOM is not supported!);
Run FemtoEVO.

Click on "ZGW detect" button or manually enter IP address of the central gateway.
Click on button "Identify" to read information from NBT EVO.

Click "Read ECU" to read data from NBT EVO. Save it and send the file us at:

[email protected]

In a response, you will receive an activation file in format *.evo for your NBT EVO. Open and load it using the "Activation" button.

In the pop-up window, please check twice: activation VIN, serial number of your NBT EVO, set of selected activations (FSC set, VIM, CCP, Coding unlock). Click "Yes" to continue.

You can see activation process containing of 3 parts: 1/3, 2/3, 3/3

FemtoEVO will inform you with a pop-up window about successful completion of activation process.

FemtoEVO automatically code Mirroring and CarPlay on your NBT EVO (Apple CarPlay Fullscreen mode is available, if you note it in your request).
Use "Clear errors" button to clear the error memory.
Enjoy your saved time, because now you can do your job much faster with FemtoEVO.

Frequently asked questions

— How to check compatibility of my NBT EVO with Apple CarPlay Fullscreen mode?
Please check your software build number in Navigation menu.
You will find it in Map version information section.

1.


2.


3.


4.

— Can I use FemtoEVO for all NBT EVO?
Yes, FemtoEVO supports all NBT EVO types, all production dates and all i-Level versions at the time of writing this user manual.

— What is CarPlay fullscreen?
This is a full-screen (wide screen) mode Apple CarPlay, officially it's not available.

— The program does not start. What I need to do?
Try the following:

Install Framework 4.5;
Check for the presence of dll in the folder with FemtoEVO;
Disable antivirus and firewall software.

— I clicked the "ZGW search" button and nothing happens. What I need to do?
Try the following:

Check ENET cable, OBD connector and your computer LAN port;
Check the Ethernet wiring from gateway to NBT EVO;
Disconnect all other diagnostic / coding programs from the car (E-sys, ISTA/D, ISTA/P, etc.);
Switch off the car. Lock it. Let car go to sleep and try to again;
If you know the IP of the car — you can enter it manually.

— When I click the Identify button, the following error appears: "Data transmission between the PC and the ECU is disturbed".

FemtoEVO does not support connection to remote car;
Disable antivirus and all firewalls;
Check ENET cable, OBD connector and you computer LAN port;
Check the Ethernet wiring from gateway to NBT EVO.

— When I click the Identify button, the following error appears: "Coding data is missing". What was happened?

This is an informational error indicating the lack of coding. With it, FemtoEVO will not be able to automatically code NBT EVO after activation. The remaining functions will be performed.
You can code NBT EVO before running FemtoEVO.
Click Identify button again.

— The "Unsupported HU type" error appears, when I click the Identify button!
The product supports only NBT EVO headunits!

— When I click the Identify button, the following error appears: "no ZGW found at this IP address, make sure you're connecting to the ZGW / BDC"
Please check Ethernet connection between gateway and NBT EVO.

— I clicked the Read ECU button and saved the file and what should I do now?

Do not rename the file!
Send a file to

[email protected]

. Also please specify VIN of your car, and describe which activations you need.

— I completed Activation, but CarPlay doesn't work. What do I need to check?

In some cases, after activation, you will need to restart NBT EVO. In this case please use "ECU Reset" button;
If you can not connect the iPhone, although you see CarPlay, check the presence of a Wi-Fi antenna in a car.

— All features were activated, but after a few minutes FSC status changes to "rejected" or "not available". What do I need to check?

Recheck VIN of car;
Maybe NBT EVO already has another patch. NBT EVO needs to be reprogrammed and re-activated using FemtoEVO;
Optionally enabled component protection

— How to understand: is the component protection active, and how to remove it?

Read errors from NBT EVO. You will see error about Active Component Protection;
FSC will change status to rejected or not available;
After activating FemtoEVO, you need to import the FSC 170 (it will be inside mail from us, in the attachment). Open the Expert mode tab in E-Sys – select FSC 170 in the Open FSC item – execute Store FSC – perform Check FSC. Repeat activation with FemtoEVO again.

— After activation, I see pop-up window on NBT EVO screen, that you need to activate navigation with the code. How to activate it?

Take a USB flash drive with navigation maps, create folder named "FSC", put the FSC navigation maps inside it. (You can find the FSC code of the map in mail from us, in the attachment).
It may be caused by Active Component Protection. Check section about Component Protection.

— How to check NBT EVO Component protection state?

Please read our instruction manual (.pdf, 274 KB)

— How to delete maps from NBT EVO and load a new one?

Please read our instruction manual (.pdf, 117 KB)

— Which type of locks / blocks does NBT EVO have?

Please read our article (.pdf, 17 KB)

— Navigation is always in the "Starting" state!

Please follow only one of the options below:

Please use FemtoEVO, click "Store FSC" and open provided map fsc file (FSC_nnnnnnn_xxxxxxxx.fsc). Wait few minutes, reboot EVO and check if Navi is working.
OR: Please use empty FAT32 formatted usb drive (smaller capacity is preferred), create folder named FSC in the root folder and copy provided map fsc file (FSC_nnnnnnn_xxxxxxxx.fsc) to it. Then just insert this usb drive into evo usb socket and wait few minutes.

Version history

1.09:
[hu] EVO SW Version 20-03-XXX, 19-11-XXX support is now available. (Internet connection needed!)

1.08:
[hu] Added basic MGU support. Currently only VIM is available;
[ux] Added ability to import FSC / check FSC statuses;
[ux] Added detection of the ID4 -> ID5 converted units with 2GB of RAM (instead of 4GB);
[ux] Display EVO SW version in the log window;
[ux] More compact output of the idents;
[enet] More reliable ZGW detection code.

1.06:
Upload rate improved.

1.05:
Optimized coding restore.

1.04:
Improved ENET communications.

1.03:
Initial release.

---

If you have any questions about cooperation or bulk orders, please write us at: [email protected]